Install Android Market 2.2.7 On Nexus S And Other Android Devices
---
This Market is for people with 480x800+ devices that weren't properly rendering the new market. APK is attached. Works great on Nexus S and Vibrant.
أن هذا الماركت للأجهزة ذات شاشات 400x800 فأعلى. كما أن هذه النسخة تعمل على Nexus
S و Vibrant.
طريقة التنصيب كأي ملف apk.

تم تنصيبه على جهازي الـ Desire
HD روم موداكو
بنجاح
XDA member
Anderdroid
, has just released the latest market update in an installable .apk file for everyone. This update only moves up the build slightly from 2.2.6 to 2.2.7. The primary fix in this version pertains to rendering issues that devices with a screen size of 480X800 were having. Which pretty much pertains to all the Galaxy S devices, the Nexus S and a few others.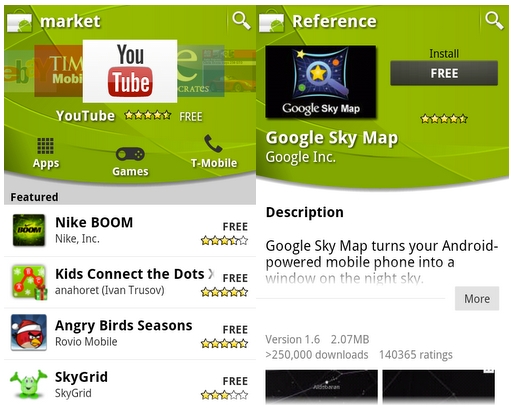 We've got good news for all Android users – the latest version of Android Market 2.2.7 is available now for all Android devices, but the official rollout might take some time depending on your location. If you just can't wait to get your hands on the latest release of the Market app, read on after the break to download and install it on your Android phone including the latest Samsung / Google Nexus S.
<p>
Just a few days ago, Android Market saw its 2.2.6 release which brought a revamped interface, app recommendations and a reduced paid app trial limit to the popular market app. However, this release didn't render properly on devices with screen resolutions of 480 x 800 pixels or higher and Google fixed that problem yesterday in the 2.2.7 release. As Google pushes out the latest version of the Market app across all the devices rather slowly, often one of those enthusiasts who get it first extract it from their device and post it online on XDA forums or different blogs, so that those who can't wait for the official rollout to their device may get their hands on it as soon as possible, and install it directly.
If your Android phone or tablet has yet to receive the update, you can install Android Market 2.2.7 to your device as a standard app. Just download the file from the link given below, extract the .apk file from the zip archive, copy it to your phone and run it. This version may run on other Android devices as well but has been tested to successfully install on Nexus S and Samsung Vibrant.
If installing it as a standard app doesn't work and gives you issues, you might need to install it as a system app. Doing so required your phone or tablet to be rooted, and involves using a root access file manager or ADB to push the file to the /system/app/ partition after renaming it to Vending.apk (if it isn't already named so). For a more information on several methods of installing any app as a system app on your Android device, check out our guid on installing any app as a system app on your Android phone or tablet